New Route Development Initiative
Click the "GoFundMe" button above or the link below to see the full project description and to contribute today:
Thanks for checking this out this end of the website.
I'm looking for some support to help me continue my passion in developing the Northwestern Ontario climbing scene and sharing it with others!

After spending a number of years climbing a vast number of already established routes around Thunder Bay, I began putting my eyes towards all the un-established walls and lines that were just begging to be developed. There truly is no way to describe to someone who's never been here just how much untapped trad and sport climbing potential there is. With all the unlimited opportunity for high quality new lines, it's also mind-boggling that there's so few people working on route development here. Maybe because it takes a grueling amount of work and dedication..it's definitely not for everyone, but sure is rewarding!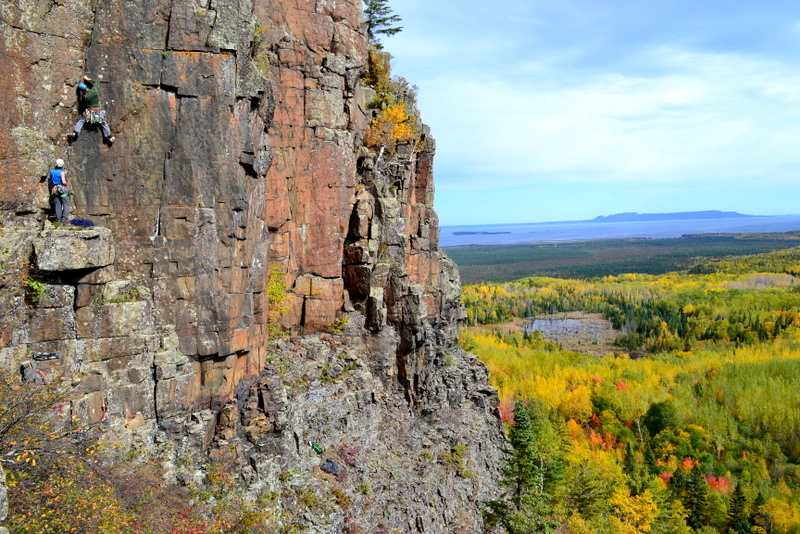 This is where I come in, but also need your support. Due to the nature of the rock here, there is quite a bit that goes in to developing a safe route for others to enjoy. Cutting trails, cleaning loose rock from potential routes, scrubbing lichen and dirt off the hand/footholds, establishing safe anchor points, etc. I Love It!! Not only is it extremely time consuming, but it is also very costly.
Your contribution will really help me: 
-Buy an industrial cordless hammer drill so I don't have to keep borrowing from others all the time
-Get a few fresh rock drill bits
-Purchase bolts+hangers in bulk
-Purchase rappel anchors in bulk
-Get some more specialized gear for the task at hand (static ropes, big wall hammer, pitons, hooks, beaks,etc)
-Get some better rock cleaning equipment (heavy duty brushes, bigger crowbars/prybars, leather gloves, etc)
-Buy more trail building tools and materials
-Continue building up the psych and climbing scene in Northwestern Ontario with epic new routes!

Some examples of awesome new trad and sport lines I've already established with good friends that you can enjoy include:
Everything Goes Brown – 5.10b – 3 pitches
Praying Mantis – 5.10b – 2 pitches
Birds of Prey – 5.11c – 2 pitches
Cold Feat – 5.10c – 2 pitches
Jammin n Cammin – 5.11c – 2 pitches
Lost Keys – 5.9+ – 2 pitches
Flight of the Frenchies – 5.11c – 1 or 2 pitch
Lengends of Animikee – 5.11b – 1 pitch
The Portal – 5.12c/d – 1 pitch
I Lichen It – 5.9 – 1 pitch
Cheeseburger – 5.5 – 1 pitch
Snake Bite – 5.9 – 1 pitch
The Milkman – 5.11c/d – 1 pitch
Back Home – 5.10a – 1 pitch
Spiritually Invested – 5.10d – 1 pitch
Dog and Bone – 5.11b – 1 pitch
Inspiration Station – 5.12a – 2 pitches watch the video
Click the "GoFundMe" button above or the link below to see the full project description and to contribute today: