An Introduction to Outdoor Climbing
Just Get Outside and Have Fun!
A Great Experience For All Ages
Looking for fun things to do in Thunder Bay? This 2 hour clinic is specifically designed for people who have never been outdoor climbing before and want to try it out! We are always excited and dedicated to showing you a wonderful time on the rock. This is an excellent way to get outside and safely give rock climbing a try to see what it's all about. No need to worry about the equipment since everything is included – you just need to bring an open mind and we'll take care of the rest!
It's Time to go Climb!
[abl-button label="Book Now" activity="58d9748398820e03beb47d52″ style="btn"]
Running Time: 2 hours
Locations: The Scenic Bluffs, Silver Harbour, Pass Lake
Cost: $49/person
Equipment Included: Harness, Helmet, Chalk Bag, & Climbing Shoes
Add-Ons Available:
–Photo Collection of your Experience
–Thunder Bay Climbing Guidebook (signed by author)
[abl-button label="Book Now" activity="58d9748398820e03beb47d52″ style="btn"]
Check out our Events Calendar to see upcoming dates, times, and locations for this public outing.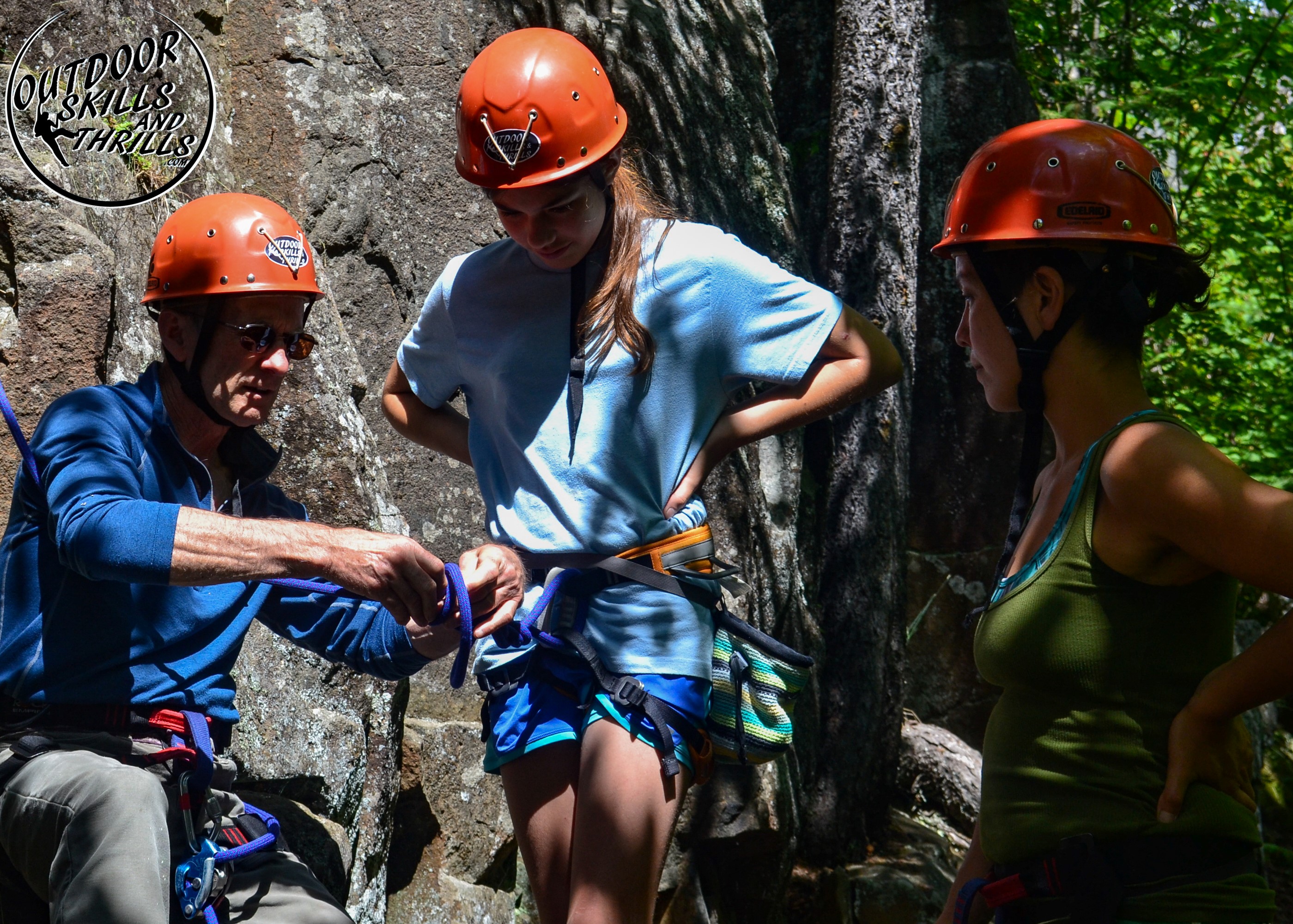 Policy Details
To Complete Your Reservation: Each climber is required to fill out a Participant Information Sheet online. Full payment is required to complete your reservation. Program reservations are not complete until payment has been received. Once a booking is confirmed, we hold a 50% non-refundable deposit of the total cost of your outing.
Payment Details:  We accept Cash, Email money transfers, and Credit card payments (Visa, Mastercard, American Express). If you need to pay by cash or e-transfer please fill out a Registration Form and let us know in the Questions/Comments section. Further details will be sent to you by e-mail.
Equipment Rental: The total cost of the trip includes the rental of all technical equipment needed for the outing: helmet, harness, rock shoes, ice axes, ice boots, crampons, and whatever else may be required for a specific course or adventure. Transportation however is not included, so you will need to arrange a way to and from the climbing spot. If you are open to carpooling let us know and we can try to help you arrange this with the other participants.
Waiver Form: You will be required to sign our waiver form before commencing the program. Participants under the age of 18 will need their parent/guardian's permission to complete registration. Minors who show up for an adventure or course without a properly signed waiver by their parent or legal guardian will not be allowed to participate. If you do not have access to a printer prior to your booking, please let us know and your guide will have paper copies available upon your arrival.
Cancellation & Refund Policy: All program deposits are non-refundable, and the full amount becoming non-refundable 7 days prior to the booking. All requests for cancellations or date changes must be submitted in writing to info@outdoorskillsandthrills.com. Please notify us as soon as possible if you wish to make any date changes to your reservation. We reserve the right to cancel any program due to weather or route conditions, guide health, or for any other reason deemed necessary by the guide. In such cases, we are not responsible for expenses incurred by the client in connection with the trip such as airfare, car rental, equipment purchases, etc. If we cancel an outing prior to the trip date, every effort will be made to reschedule for another available date within the current season. By its very nature, climbing is an uncertain endeavor, and many factors can influence the outcome of a trip. Accordingly, once a trip begins, we are unable to offer refunds for weather related cancellations, or for trips that end prematurely due to weather, route conditions or circumstances within, or affecting, your group.
Health/Cancellation & Interruption Insurance: It is important to make sure that your current plan covers you in the case of an illness, accident, cancellation, or interruption prior to or during your trip; get extra coverage if necessary. In the case of a trip cancellation or interruption, we cannot be held responsible for expenses incurred by the client in connection with the trip such as airfare, car rental, equipment purchases, etc.
Drugs and Alcohol: No alcohol or drug use is allowed on our programs. We have a zero tolerance policy and no climbing is ever permitted under the influence of alcohol or drugs.