---
Nipigon Ice Fest – More Info
Accommodations
Nipigon Area Accommodations:
Sunnyside Cabins 807-887-5739
Skandia House B&B 807-887-3133
Red Rock Inn 807-252-8759
Chili Dinner Fundraiser – Saturday March 7th, 6pm
There is a Chili Dinner fundraiser event on the Saturday March 7nd at the legion from 6pm-7pm. Cost is $15, and the menu will include a large bowl of Chili (vegetarian option available), salad, buns, dessert, tea/coffee/pop. All proceeds go towards next year's Ice Fest! The bar next door will be open as well for those who are age of majority and would like to enjoy a drink.
Local Discounts
The Edgeview Restaurant is offering 10% off meals (excluding beverages) to ice climbers Friday March 6th, and Saturday March 7th.  They are usually closed Saturday but are opening 4pm-8pm on the 7th for Ice Fest.
Presentations 
– Saturday March 7th, 7pm

Brandon Pullan
Brandon Pullan was born and raised in Ontario, and graduated from Lakehead University. He started writing for publications in the late '90s and is now editor-in-chief of Gripped, Canada's climbing magazine. He has over 100 published articles in print, and countless contributions by him can also be found online. His alpine pursuits have introduced him to dozens of legendary climbers and mentors, motivating him to compile and archive collections of stories from this older generation of mountaineering greats. Brandon is the author of The Bold and Cold: A History of 25 Classic Climbs in the Canadian Rockies (RMB, 2016) and co-author of Northern Stone: Canada's Best Rock Climbs (RMB, 2018). He lives in Canmore, Alberta.
Update: We truly regret to inform everyone that our feature presenter Brandon Pullan is no longer coming this weekend for the Nipigon Ice Fest.
Shaun Parent
Shaun Parent has lived on the East Shore of Lake Superior since 1999 in an area that has plenty of ice climbing. He has a long career of ice climbing exploration and development in the Lake Superior Corridor and is considered the Pioneer of both Rock and Ice along the north and east shore of Lake Superior. His Company Superior Exploration Adventure and Climbing Co. Ltd. has offered Rock and Ice Climbing courses and guided expeditions to Peru since 1989. Since 2000 He has explored and discovered over 500 new ice climbs. He has authored and co-authored 10 Ice Climbing guidebooks and is presently compiling a guidebook to the District of Algoma that will have 640 Ice Climbs in 8 different areas. Publication date is planned for the Fall of 2021.
This will be an informal 20 Minute powerpoint presentation showing a few of the nice ice climbs in these areas, including Agawa Canyon, Montreal River, Wind Tower Wall, Cerro De Hielo, Mile 38 Road, Searchmont and Gros Cap.
Jim Shimberg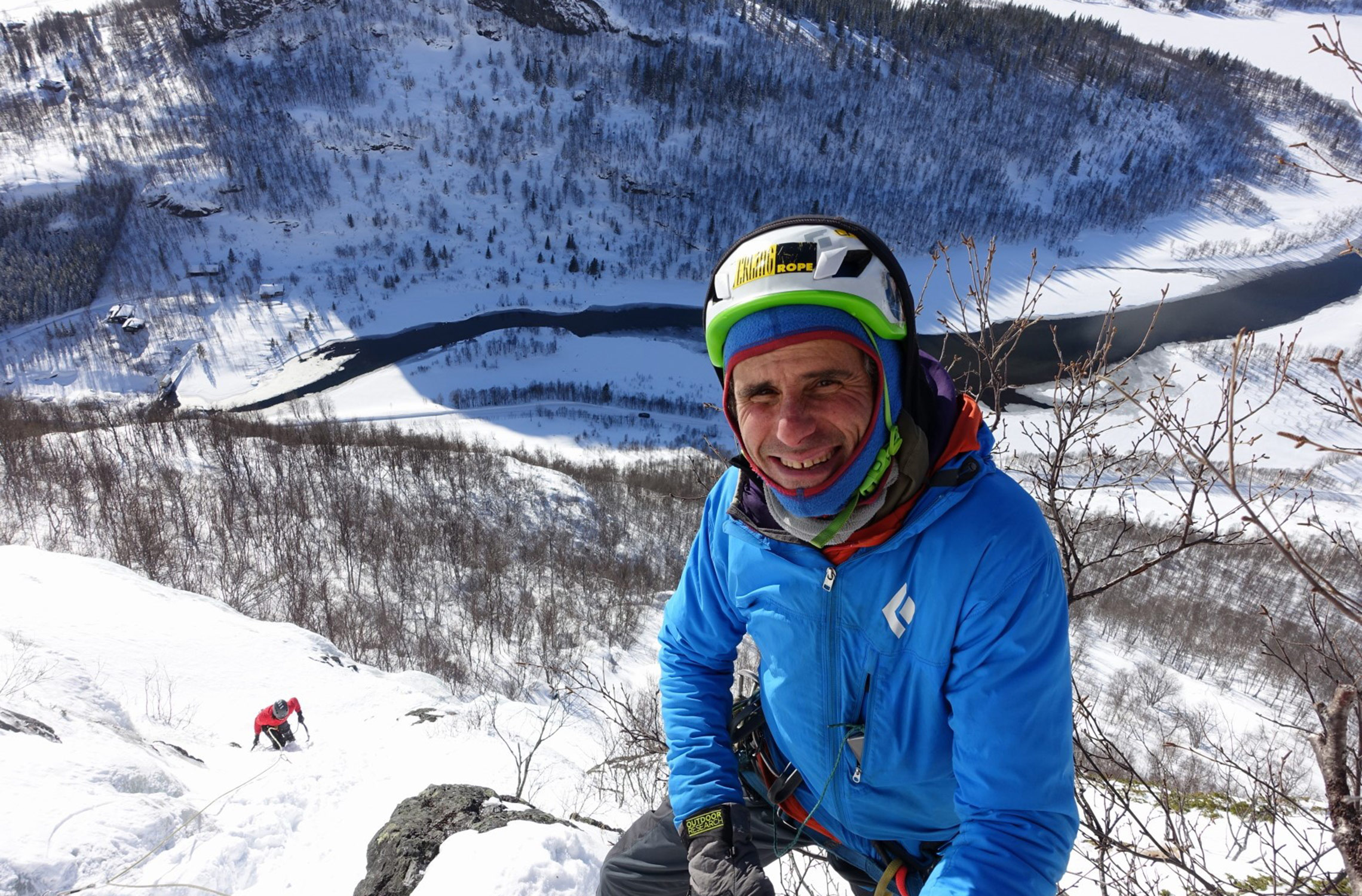 Jim Shimberg was the first athlete on Team Sterling, back when Sterling's offices were in Beverly, MA. Still guiding and still climbing after 35+ years, "Shim " has been adventuring with Sterling's fine products since 1994, with notable ascents mostly involving ice climbing around the globe. Jim Shimberg has over two decades of guiding experience and his company 'Rhino Guides' of Campton, New Hampshire is set in the granite cliffs of northern New England's White Mountains.  
Shim represents Sterling at various ice festivals throughout the United States, at events such as the New River Rendezvous, the AAC Cragging Classics, and now PSYCHED to travel to Northwest Ontario to take part in the Nipigon Ice Fest as well! Honored to represent the finest ropes on the planet, Shim is working to achieve 10 routes on El Capitan (7 so far) and keep having fun climbing on Sterling Ropes as much as possible.
Gear Raffle
The Nipigon Ice Fest has become well known for having some incredible prizes to win at the gear raffle Saturday evening. Check out the list of sponsors who have come together this year in support of the ice fest!
---