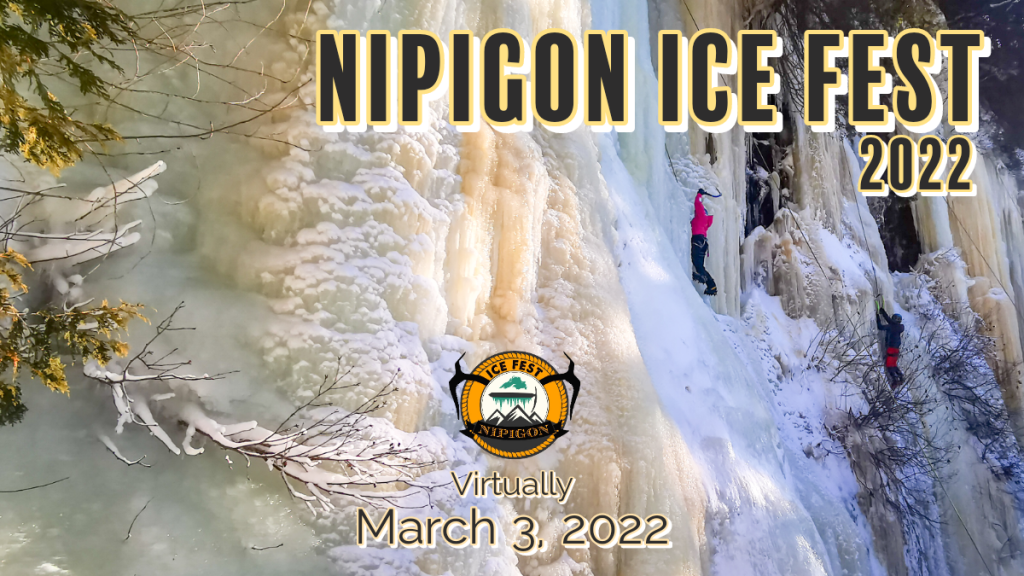 ---
Canada's longest running, premiere ice climbing festival typically features ice climbing clinics, presentations by outdoor adventurers, gear swap, fun games, and our legendary gear raffle…
With the ongoing COVID-19 pandemic the 2022 Nipigon Ice Festival is shaping up, but just a little bit different.
We are hoping to be back to normal a bit more with a live event for the 2022 Nipigon Ice Fest! (With a contingency plan in place of course). Our event is to be held on March 5th 2022. Since everyone may not be able to, or feel comfortable attending in person we will be hosting part of our legendary gear raffle as an online auction once again. 
During the event on March 5th we will be running our usual Ice Climbing and Mixed Climbing Clinics, with updated Covid protocols in place and limited capacity to allow for social distancing.  In the evening we will be hosting guest speakers at the Nipigon Legion, once again with a reduced capacity and updated Covid protocols.
ICE FEST UPDATE: It truly saddens us to have to make this announcement, however due to the impacts of COVID-19 to our healthcare system and ongoing restrictions to public gatherings, we have unfortunately made the hard decision to cancel the live event this year. We will certainly miss seeing everyone for yet another year, however we very much are looking forward to seeing you all in person next year when things are [hopefully] back to normal! As is tradition, we are still planning to keep the festival spirit alive by hosting a series of events including a virtual presentation with guest speakers on Thursday March 3rd, a photo contest starting Friday January 21, and bringing back our legendary gear raffle as a virtual auction! Check below and stay tuned for more details. Thank you for your continued support of the Nipigon Ice Fest, we hope to see you all virtually on March 3rd, & live March 2023.               -Nipigon Ice Fest committee
Whether you're a novice, intermediate, or expert climber – unite, learn, and explore at the 2022 Nipigon Ice Fest!
First established in 1986, the Nipigon Ice Fest has always been run fully by volunteers with all proceeds going back towards putting on the event.
Nipigon Ice Fest Schedule of Events

Climbing Clinics
March 5, 2022 – CANCELLED DUE TO COVID-19 –
Beginners Ice Climbing Clinic
Intermediate Ice Climbing Clinic
Mixed Climbing Clinic
Photo Contest
January 21st, 2022 – March 7th, 2022
We are holding a "Choose Your Own Adventure" photo contest from January 21st – March 7th.
S
hare a picture of your most recent climbing adventures for your chance to win a $100 Gift Card to Wilderness Supply!
(Contest not limited to NW Ontario, this is open to all Canadian and US climbers)
How to enter:
Share a picture online using the #Mylocalice hashtag

Tag Nipigon Ice Fest in your post or picture

Tag Wilderness Supply (and) Outdoor Skills And Thrills for an additional chance to win
*Reminder to make sure your post is public so that we can see it!
*Please ensure you are following all your local COVID-19 guidelines and restrictions.
Prize:
$100 Gift Card from Wilderness supply!

Prize will be awarded to a random winner
Gear Auction
March 3rd – March 17th, 2022
https://www.32auctions.com/NipigonIceFest2022
The Nipigon Ice Fest has become well known for having some incredible prizes to win at the gear raffle. This year we will be hosting part of our legendary gear raffle as an online auction once again. Check out the list of sponsors who have come together in support of this year's event! All of the proceeds from this auction will go to supporting this year's event as well as help us bring great presenters and instructors to future events when we can once again all climb together.
Feature Presentations
March 3rd, 2022 – 7:00pm-9:00pm EST
Password: 221472
Although we're not able to all hangout together in person this year, we are stoked to announce that this year's virtual event will include a feature presentation by Jim Elzinga followed by a questions and answers period where we'll pick some questions out from the audience! After Jim's presentation we will be hosting a virtual panel of local legends to have a discussion about a variety of ice climbing topics that is sure to be entertaining, inspiring and informative. Following the panel discussion there will be another opportunity for you to ask questions from climbers on the panel!
–
Feature Presentation: 7:15pm – 8:00pm
Jim Elzinga is one of Canada's few elite alpinists whose focus has consistently been on a search for new more difficult routes on the world's most challenging mountains. While Everest today is climbed mainly by the route Sir Edmund Hillary climbed in 1953, Elzinga's time on Everest was to try an unclimbed route by fair means – without the use of traditional Sherpa support. In the Canadian Rockies, Elzinga has made the first ascent of Slipstream WI4+ 1,000m with John Lauchlan (which he'll be talkging about), the first ascent of The Elzinga/Miller 5.9 WI4+ on Mount Cromwell, the first ascent of the Northwest Ridge of Mount Alberta 5.9 V with Barry Blanchard, dozens of new ice and mixed routes over the past 45 years and more. Elzinga made the first winter ascent of the North Face of Mount Robson in 1989 with Barry Blanchard and Ward Robinson in -40°C temps. Elzinga also made a -40°C ascent of the Ramp Route V+ on Mount Kitchener with Lauchlan in the dead of winter. Abroad, Elzinga made the first ascent of the South/Southwest Ridge VI of Mount Logan in 1979 with Raymond Jotterand, Alan Burgess and Lauchlan over 15 days. With Steve House, Elzinga climbed the previously unclimbed southwest face of Brahamasar II up a 1,000-metre burly alpine line. On the mighty Nuptse, Elzinga and Peter Arbic climbed within 350 metres of the summit after spending nine days climbing The Southeast Pillar. It's the high-point for an alpine-style attempt on the grade-VI wall.
–
Panel Discussion Session: 8:00pm – 9:00pm
Wes Bender: A local climber who is passionate about the out doors. Hunting, Fishing, and ice climbing are all activities he enjoys at an obsessive level.
Patrick Martel: An avid rock and ice climber since 1996. Passionate about both traveling to climbing destinations and local crag development.
Ruth Chapman: Was always interested in climbing looking up at climbers cliffs. She and her two boys began climbing together with the Alpine Club in the mid 90s. Co-ran a ladies ice fest at Eagle Canyon in the early 2000's
Chris Chapman: A Thunder Bay local, he began rock & ice climbing in the Thunder Bay Area around the mid 1990s, and has enjoyed climbing in numerous locations across Western North America.
Brent Clark: An all around climber who enjoys getting outdoors, the great partnerships, and experiences climbing offers. Moving to Thunder Bay in 2016 led him to developing new skills and the introduction to trad and ice climbing.
Kevin Shorthouse: A dirty boots Forester who spends his free time pursuing vertical endeavors and trying to keep up with his 7 year old daughter.
Hosted by Aric Fishman: Author of the Thunder Bay Climbing guidebook, owner and lead guide of Outdoor Skills And Thrills, the president of the Nipigon Ice Fest committee, and just an all-around climbing addict.
–
Password: 221472