Our Objective
It's simple, our objective is to help grow a larger community of climbers and adventure seekers who are safe, skilled, knowledgeable, and passionate to share their love for the outdoors with others and to live life to the fullest!
We work hard to accomplish this by focusing on these 3 essentials:
Having exciting adventures and courses that are guided by professional and encouraging experts who are passionately and actively involved in developing the climbing scene through stewardship.
Teaching the fundamental skills and advanced techniques that will allow climbers to truly enjoy a long and safe climbing career.
Providing all participants with a stress-free environment where they can feel comfortable and safe to try new things while pushing their limits.
All of the rock and ice climbing locations we will take you to have been specifically chosen for their breathtaking views and world class climbs! Outdoor Skills and Thrills instructors are also some of the most energized in the region and truly enjoy working together with people of all ages and abilities.
Not only passionate about instructing and climbing, they are also working hard to develop the climbing scene in Northwestern Ontario by helping to maintain trails, replacing old anchors, developing new routes for everyone in the region to enjoy, helping to build up the climbing community through public initiatives, and much more.
Join the Next Adventure with Outdoor Skills And Thrills!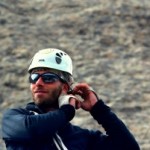 "Although I love rock with an absolute passion, nothing is ever 'set in stone'. I am always happy to accommodate however I can in order to help spread the endless benefits that come from exposure to the climbing life – If you have any special needs or specific requests, just let me know! You would be surprised what we can come up with to get you outside having fun and learning."
Aric Fishman – Founder & Director