Get Ready to Experience the Adventure of Northwest Ontario with Outdoor Skills And Thrills!
Climbers have enjoyed ascending up this thin pinnacle for well over 30 years…and now it's your turn to climb to the top! Don't have any climbing equipment? Don't even worry about it – Outdoor Skills And Thrills has everything you will need for the adventure. No experience? No worries – Having some climbing experience would certainly be advantageous, but it's not required to experience this magical adventure. Although we can't guarantee you will make it to the top, the climb itself is actually at a beginner level in terms of difficulty which is what makes it accessible to adventurous first timers as well. Your lead guide Aric Fishman has been able to safely coach countless beginners up and down this tower for almost a decade now, and describes getting to the top as being often more of a mental challenge than a physical one. The drive in to the parking area is rough, you will need a high clearance vehicle to make it. The hike in and hike back out are not easy going, many hills and boulders to navigate, quite technical in sections, but is super fun and beautiful! Under expert guidance of your climbing guide(s), you will not only have a great experience climbing to the top of the Dorion Tower, but you will also learn a variety of climbing skills in detail, making certain that you are comfortable and confident while getting after your ascent. Get ready for this epic adventure!
Drive time from Thunder Bay: 1 hour
Hike in time from parking area: approximately 45 minutes
All technical climbing equipment is included –  If you have personal equipment like a harness/helmet/climbing shoes/chalk bag, feel free to bring your own gear. Any personal equipment will be inspected prior to use.
What to Bring: 
* Backpack (large enough for all your belongings and the climbing equipment we give you for the day)
* Water bottle (1L minimum)
* Snacks/lunch to keep your energy up
* Sunglasses/Sunscreen/UV Lip Balm/Bug Spray
* Active clothing appropriate for the weather conditions
* Close-toed shoes (hiking shoes recommended)
There can be periods of high activity followed by periods of low activity in changing temperatures and conditions. We suggest bringing clothing of varying thicknesses that can be 'layered' to achieve comfort and versatility.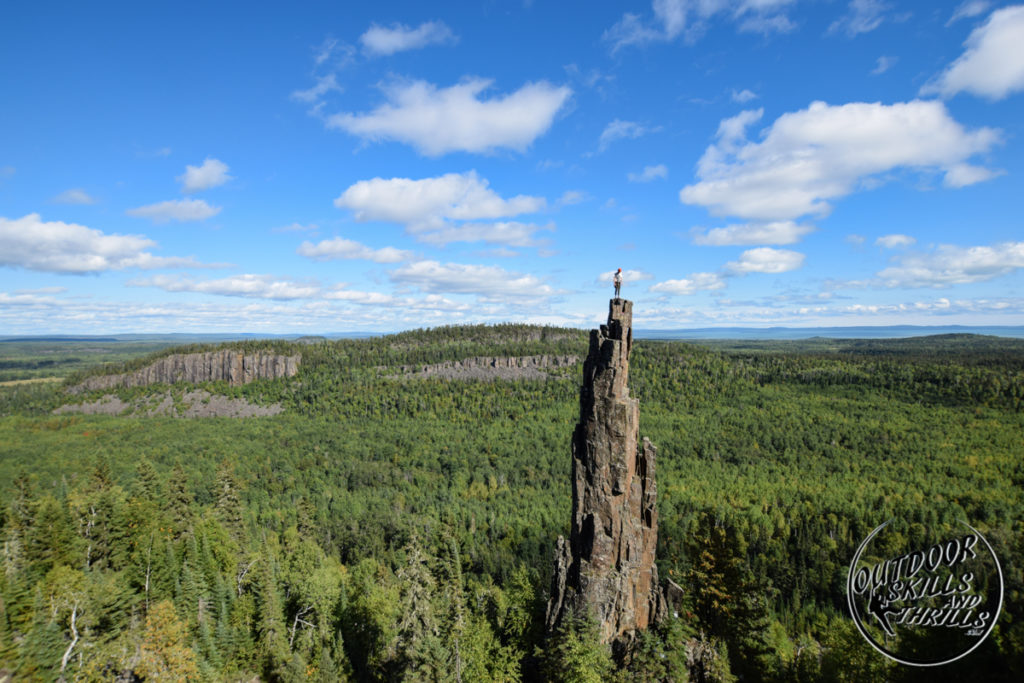 Dorion Tower – Driving Directions 
These are driving directions which begin from the HWY 11/17 & Harbour Expressway intersection in Thunder Bay. Drive east on 'HWY 11/17' for 70 km (44 mi) and turn left on to Ouimet Canyon Road. Stop here – this is where you are meeting your guide. Follow your guide for 3.7 km (2.3 mi) and turn right on to Valley Road. Continue for another 2.7 km (1.7 mi) and turn left on to Tower Road (unmarked road). From this point on it is a very rough road, 4×4/high clearance vehicle is highly recommended. Continue for another 2.7 km (1.7 mi) and park on your right at a small clearing just before a gate. You have arrived!
Program Itinerary
This is a basic outline of the itinerary for our adventure; however we customize/modify our outings based on each individuals level of experience. The day begins with your drive time to the climbing location.
-Arrival at the Climbing Destination! Meet and greet at the parking area
-Distribute gear (harness, helmet, climbing shoes, chalk bag, etc)
-Hike to climbing site
-Talking About Site Safety and Equipment
* Helmets to be worn at all times
* Equipment explained, fitted to each person, and secured.
-Guides Climb the Tower and Set it Up for You to Climb
* Explanation of basic techniques to get up the tower
* Explanation of how to come back down
-Time for You to Climb the Dorion Tower!
-Snack/Lunch: On your own time whenever you please
-Skill Building Throughout the Day
* Using different types of climbing holds
* Effective use of feet
* Learn about rock formations, anchors, etc.
-Last Climbs to the Top
-Tear Down, Clean Up, and Pack Up
-Hike time back to the parking area for departure
-Arrival back at parking area, return equipment to guide
-Departure time
Waiver Form: 
Click Here to view/print the Waiver Form
If you do not have access to a printer, your guide will have blank copies available on the day of your outing.
Policies & Procedures
All adventures/courses are confirmed and booked based on guide's availability. Once a reservation is submitted check your e-mail for an automatic confirmation of payment (check your spam folder if you do not see it in your inbox) and we will get in touch with you within 48 hours to confirm all the details of your outing for you or your group.
After Submitting your Reservation: Each climber is required to fill out a Participant Information Sheet online. Please do this as soon as you've submitted your payment. This is to ensure we have all the information needed to provide you with the best possible experience and the properly fitted equipment.
Equipment Rental: The total cost of the trip includes the rental of all technical equipment needed for the outing: helmet, harness, rock shoes, ice axes, ice boots, crampons, and whatever else may be required for a specific course or adventure.
Transportation: Transportation to the rock climbing locations & ice climbing locations is not included. You will need to arrange a way to and from the climbing spot.
Waiver Form: You will be required to sign our Waiver Form before commencing the program. Participants under the age of 18 will need their parent/guardian's permission to complete registration. Minors who show up for an adventure or course without a properly signed waiver by their parent or legal guardian will not be allowed to participate. At Outdoor Skills And Thrills we take great pride in ensuring our participants have a fun and safe experience. The proof is in the records – we are proud to say that we have never had an incident or injury occur during any of our guided outings! Nonetheless, we do want to make sure you are aware that rock and ice climbing is a dangerous activity that can result in death, paralysis or serious injury.
Cancellation & Refund Policy: Once a reservation is submitted we hold a $50 non-refundable deposit per person. All program deposits are non-refundable, and the full amount becoming non-refundable 48 hours prior to the date of the reservation. Please notify us as soon as possible if you need to make any date changes to your reservation. All requests for cancellations or date changes must be submitted in writing to info@outdoorskillsandthrills.com.We reserve the right to cancel any program due to weather or route conditions, guide health, or for any other reason deemed necessary by the guide. In such cases, we are not responsible for expenses incurred by the client in connection with the trip such as airfare, car rental, equipment purchases, etc. If we cancel an outing prior to the trip date, every effort will be made to reschedule for another available date within the current season, or held as a credit to be used within 2 years. By its very nature, climbing is an uncertain endeavor, and many factors can influence the outcome of a trip. Accordingly, once a trip begins, we are unable to offer refunds for weather related cancellations, or for trips that end prematurely due to weather, route conditions or circumstances within, or affecting, your group.
Cancellation/Health & Interruption Insurance: It is important to make sure that your current plan covers you in the case of an illness, accident, cancellation, or interruption prior to or during your trip; get extra coverage if necessary. In the case of a trip cancellation or interruption, we cannot be held responsible for expenses incurred by the client in connection with the trip such as airfare, car rental, equipment purchases, etc.
Drugs and Alcohol: No alcohol or drug use is allowed on our programs. We have a zero tolerance policy and no climbing is ever permitted under the influence of alcohol or drugs.