New Route Development Fund
Thanks for checking out this end of the website!
This region has everything from short single pitch climbs to tall multi-pitch walls; easy 5.5 joy rides to hard 5.13 projects; slabby walls, vertical walls, overhanging roofs, you name it! We've already got hundreds of sport climbs, hundreds of trad climbs, hundreds of mixed climbs…and simply an unlimited potential for more.
Your contributions will be used to help develop the climbing scene in Northwest Ontario!
With all the unlimited opportunity for high quality new lines, it's mind-boggling that there's so few people seeking out new route development here. Maybe because of the grueling amount of time, hard work, experience, dedication, risks and logistics involved.
Sometimes I get asked by other climbers "So how much does it actually cost to develop a new route? Can I 'pitch-in' to help?", and so to give a bit of insight of some of the costs involved:
-To equip a sport climb with modern bolts, hangers and a rappel anchor, every pitch on average will cost between $100 – $200 depending on the number of bolts and type of rappel anchor.
-To equip a trad climb with modern rappel anchors, every pitch on average will cost between $35 – $50
-An SDS drill bit lasts for approx 10 bolts before it is dull and needs replacing, this costs around $20
Not only is it very costly, but it also extremely time consuming.
Click here to watch this 'behind the scenes' video about climbing development.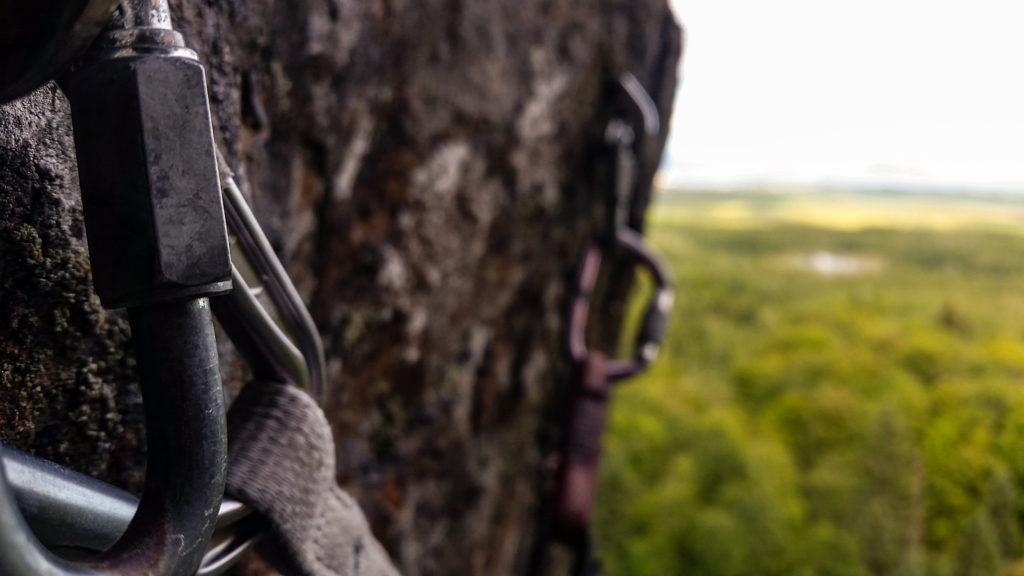 Your contribution will really help to: 
-Purchase bolts & hangers for sport climbs
-Purchase rappel anchors for sport and trad climbs
-Get a few fresh rock drill bits
-Get some more specialized gear for the task at hand (static ropes, big wall hammer, pitons, hooks, beaks,etc)
–Purchase better trail maintenance tools and materials
-Get some better rock cleaning equipment (heavy duty brushes, bigger crowbars/prybars, leather gloves, etc)
-Continue building up the psych and climbing scene in Northwestern Ontario with epic new routes!

 I try to put a lot of effort and passion into developing the climbing scene in the region by doing things such as helping maintain/create trails, replacing old anchors, organizing community events, teaching safe modern climbing standards & instilling a sense of environmental stewardship. I also absolutely love spending the time developing high quality new routes of all grades for everyone to enjoy, and am proud to have over 150 F.A/F.F.A's (first ascent/first free ascent) under my belt.
Bouldering V0 – V7
Sport & Trad [single & multi-pitch] 5.5 – 5.12c/d
Ice/Mixed M5 – M8-.
Check out the Guidebook I recently released for the region:
Help me continue to develop Northwest Ontario climbing!