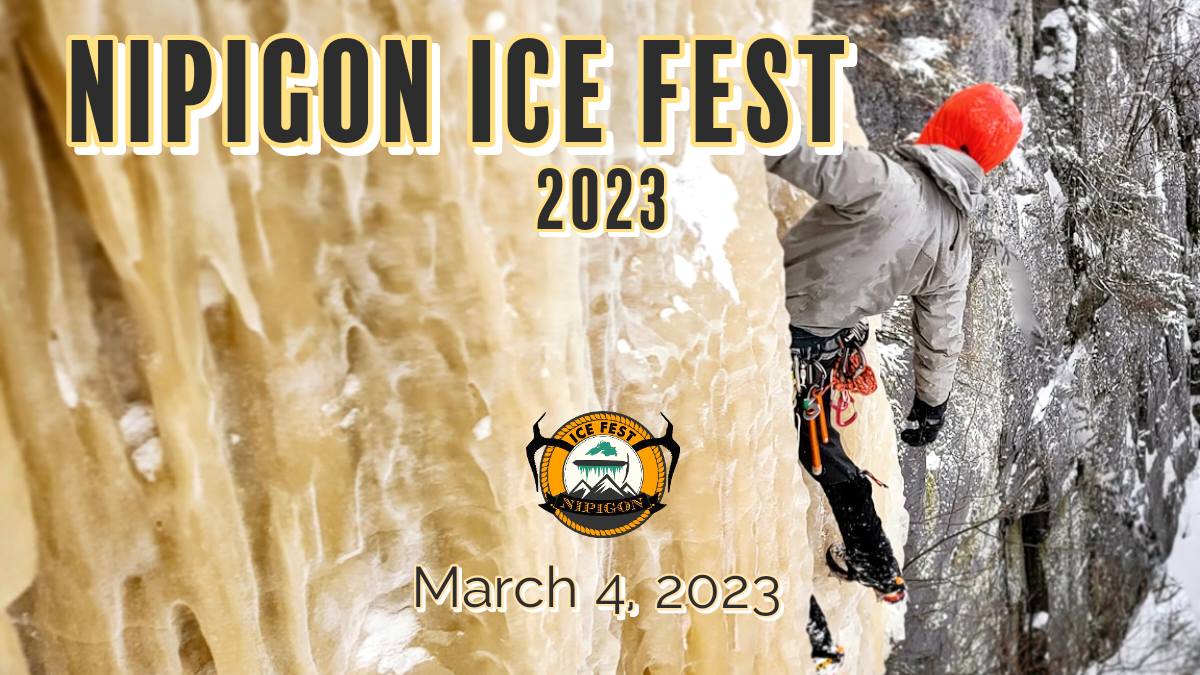 Join Us for the 2023 Nipigon Ice Fest!
Canada's longest running, premiere ice climbing festival features ice climbing clinics, presentations by outdoor adventurers, gear swap, fun games, and our legendary gear raffle.
First established in 1986, the Nipigon Ice Fest has always been run fully by volunteers with all the proceeds going right back into putting on the next year's event.
Whether you're a novice, intermediate, or expert climber, Unite, Learn, and Explore at the 2023 Nipigon Ice Fest!

Schedule & Events
Cheers & Chill
March 3rd, 2023
Photo Contest
January 1st, 2023 – March 12th, 2023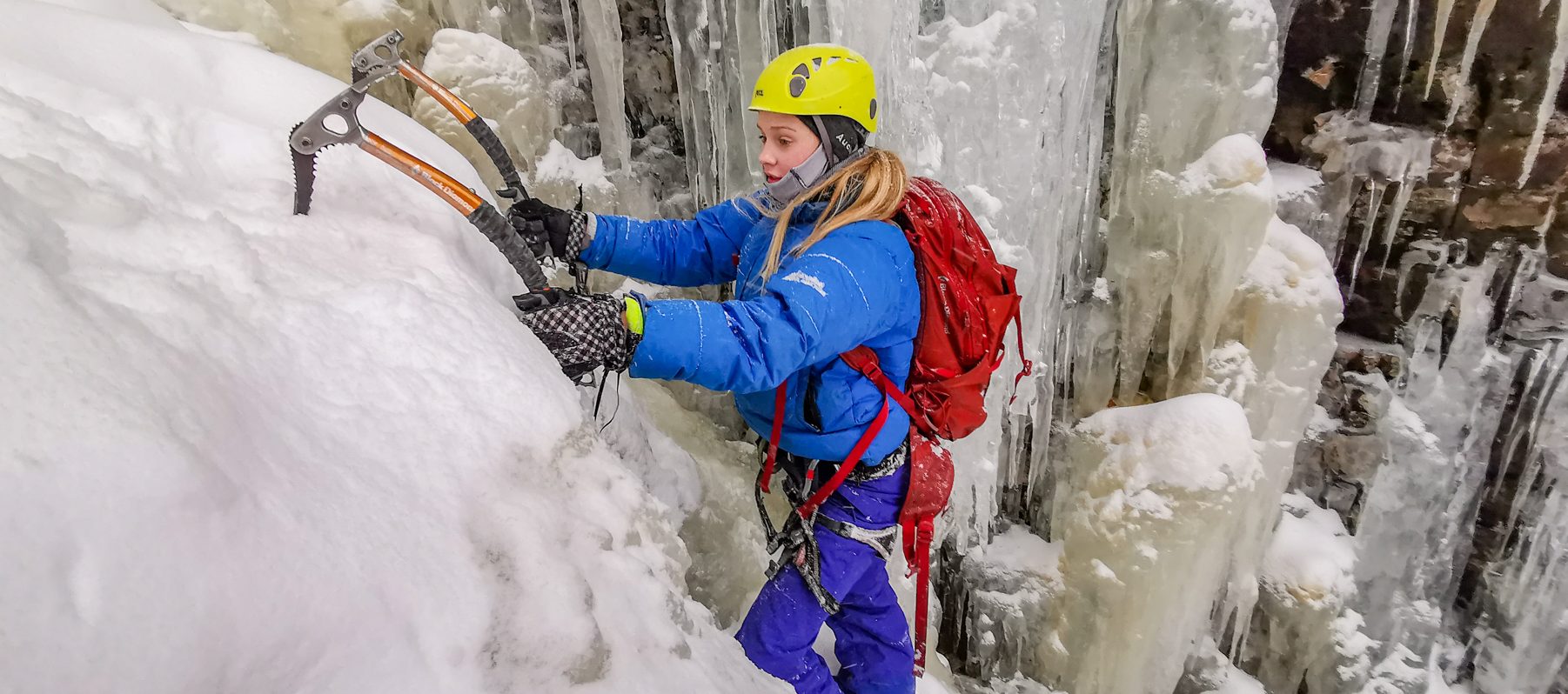 We are holding a photo contest from January 1st – March 12th.
Share a picture of your most recent winter adventures for your chance to win a Nipigon Ice Fest Prize Package
(Contest not limited to NW Ontario, this is open to all Canadian and US climbers)
How to enter:
Share a picture online using the #Mylocalice hashtag

Tag Nipigon Ice Fest in your post or picture on Facebook and/or Instagram

Tag Wilderness Supply (and) Outdoor Skills And Thrills for an additional chance to win
*Reminder to make sure your post is public so that we can see & share it!
Prize will be awarded to a random winner
Gear Auction
March 4th – March 12th, 2023
The Nipigon Ice Fest has become well known for having some incredible prizes to win at the gear raffle. This year we will be hosting part of our legendary gear raffle as an online auction once again. Check out the list of sponsors below who have come together in support of this year's event! All of the proceeds from this auction will go to supporting this event as well as help us bring great presenters to future events.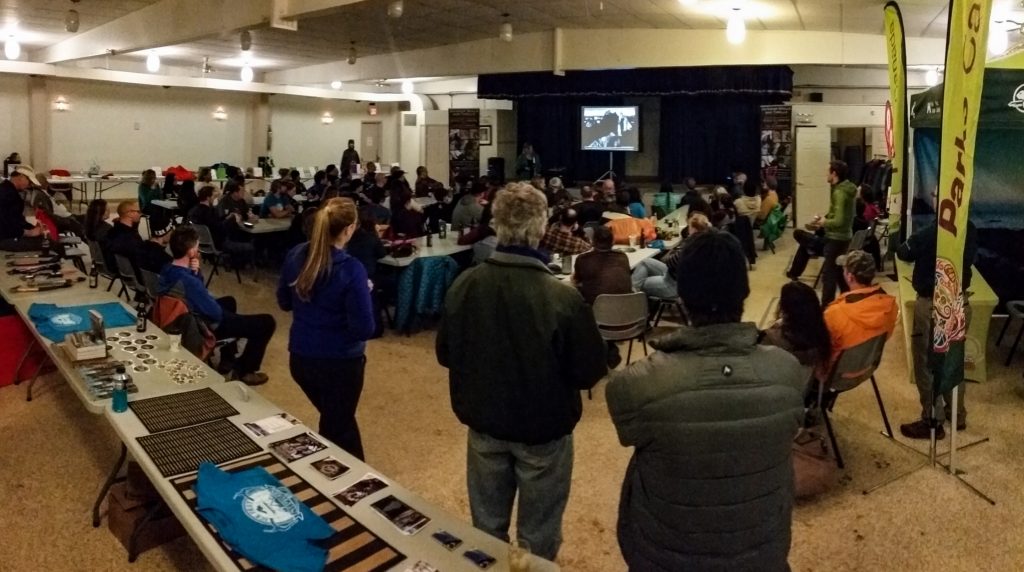 Feature Presentations
March 4th, 2023 – 7:00pm-9:00pm EST
After a great day of climbing, warm up with the locals at a casual "Ice Fest Summit" and get inspired with presentations by outdoor adventurers and climbing enthusiasts, discuss Sunday's climbing plans, and participate in the gear swap and raffle.
Feature Presentations by:
Dave Rone (7:00pm – 8:00pm)
Dave Rone has been rock climbing since 1976, and ice climbing since 1978. Long before cams, and climbing gyms. He made his first trip to Nipigon and Orient Bay in January of 1983, right after Shaun Parent's article about Orient Bay Ice climbing, and photo of the unclimbed Reflection Wall route, appeared in Climbing magazine. Forty years later, it's still one of his favorite places for ice and mixed climbing.
Dave's presentation, Winter Climbing – Good, Bad, and Ugly, will include Orient Bay and Kama Bay of course. But its focus will be the Canadian Rockies, along with a selections from Quebec, Norway, and Patagonia.
Stas Beskin (8:00pm – 9:00pm)
Stas Beskin grew up in Caucasus mountains and started to climb at the age of 12. The connection to the nature was always the big thing for him, and since then he has climbed ice in Norway, Italy, Switzerland, France, US and of course Canada. Stas has been introducing people into ice climbing for the last 14 years and has done some incredibly notable ascents. Being forever enchanted by the breathtaking realm of the vertically frozen water, he hopes to pass on the magic to you!
Nipigon Ice Fest Location
Driving Times to Nipigon  from:
Thunder Bay, ON – 1 hour – 110 km (68 miles)
Wawa, ON – 4 hours – 365 km (227 miles)
Duluth, MN – 5 hours -420 km (261 miles)
Sault Ste. Marie, ON – 6.5 hours – 585 km (365 miles)
Minneapolis-St. Paul, MN – 7.5 hours – 667 km (415 miles)
Winnipeg, MB – 8.5 hours – 800 km (497 miles)
Traverse City, MI – 9.5 hours – 870 km (540 miles)
Sudbury, ON – 10 hours – 900 km (560 miles)
Madison, WI – 10.5 hours – 950 km (590 miles)
Grand Rapids, MI – 11.5 hours – 1,062 km (660 miles)
Chicago, IL – 12.5 hours – 1,165 km (725 miles)
Toronto, ON – 13.5 hours – 1270 km (790 miles)
Nipigon Ice Fest Sponsors
A Special THANKS to all of the sponsors who
have joined us in support of the 2023 Nipigon Ice Fest!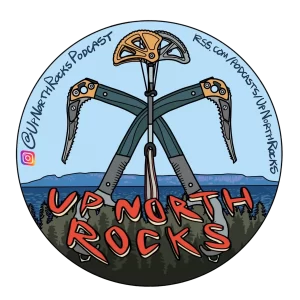 Unite, Learn, and Explore at the 2023 Nipigon Ice Fest!
Contact Us
Send us a message using the Contact Form below and we will get back to you shortly!
And a BIG Thank You again to our 2022 Sponsors