Expect 2-10 business days for your shipment to arrive. All sales are final.
This guidebook is also available for local (Thunder Bay) pickup.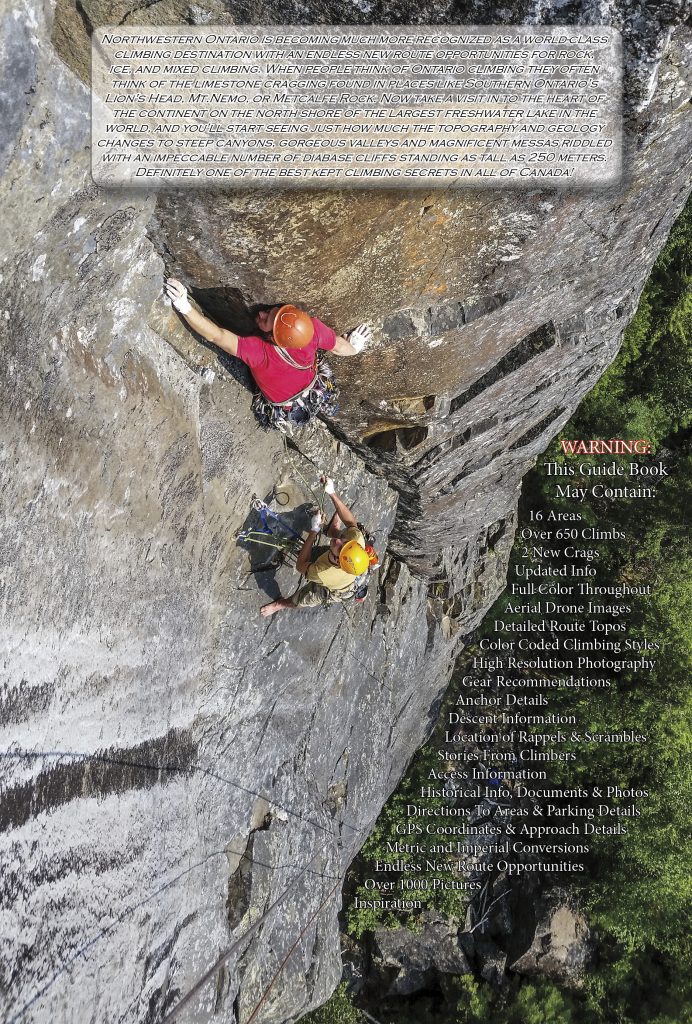 Rock climbing is a dangerous sport that can result in death, paralysis or serious injury. Read and understand this warning before using this book. This book is intended as a reference for advanced/expert climbers. The terrain it describes can be or is extremely dangerous and requires a high degree of ability and experience to negotiate. This book is not intended for inexperienced/novice climbers. Nor is it intended as an instructional manual. If you are unsure of your ability to handle any circumstances that may arise, employ the services of a professional instructor or guide. The information in this book may be unverified, and the author and publisher cannot guarantee its accuracy. Assessments of the difficulty of and risks associated with the terrain described are based on opinions and are entirely subjective. Numerous hazards exists that are not described in this book. Climbing on any terrain described in this book, regardless of its description or rating, may cause death, paralysis or injury. Please take all precautions and use your own ability, evaluation, and judgment to assess the risks of you chosen climb, rather than relying on the information in this book. The author and publisher make no representations or warranties, expressed or implied, of an kind regarding the contents of this book, and expressly disclaim an representation or warranty regarding the accuracy or reliability of information contained herein. The user assumes all risk associated with the use of this book and with the activities of climbing.
HAVE FUN – CLIMB SAFELY
Thunder Bay Climbing: A Guide To Northwestern Ontario's Best Kept Secret
By Aric Fishman
424 full color pages!!
I'm excited to announce that I have completed the new rock climbing guidebook I've been working on for the Northwestern Ontario region, covering all of the major crags and best climbs within a 1.5 hour driving radius of Thunder Bay!
Orders are available for local pickup or can be shipped out.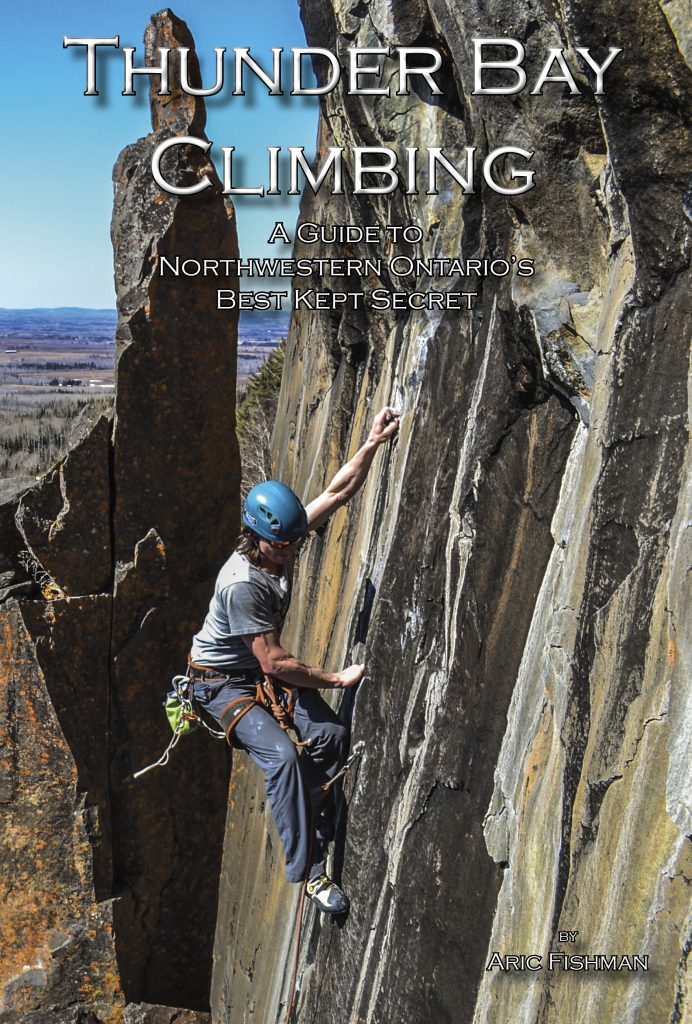 This book is designed not only to be extremely informative and accurate, but I also wanted it to be a way to visually showcase just how spectacular the terrain and climbing is within this region. I decided to include certain key features in this book that I have found very helpful for me throughout my travels while using other guidebooks. Examples include: inspirational photos of climbers on listed climbs, aerial drone photography, high resolution photos of the cliffs & routes, easy to understand symbols, route distribution charts by crag, grade and style. gear recommendations for climbs, anchor information, details about the descent/rappel, climb/area history, information about access issues, geological characteristics of each crag, sun exposure at each area, hike in/approach times, detailed driving directions and parking information, and much more!
Please direct any questions to (or share your excitement with) Aric Fishman at
aric@outdoorskillsandthrills.com
Looking to sell this guidebook at your retail location or website? Awesome! Please inquire for more details.