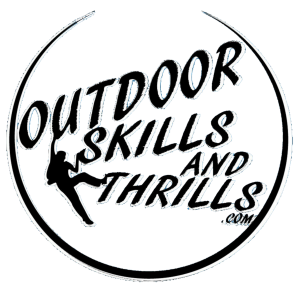 Get Ready to Experience the Adventure of Northwest Ontario with Outdoor Skills And Thrills!
Get ready to have an amazing experience snowshoeing in some of the most epic places around Northwest Ontario! Snowshoeing is a fantastic winter activity that's both fun and accessible for all ages and abilities. Get to explore this beautiful region along with our experienced guides where you will learn about the region, get in some great physical activity, and keep your eyes peeled for wildlife sightings! Sign up now and let us show you an amazing experience you won't forget.
Equipment Included:
Snowshoes & Trekking Poles (if you have any of your own equipment please feel free to bring it)
What to Bring: 
Backpack (large enough for all your belongings)
Water bottle and/or Thermos (1L minimum)
Snacks/lunch to keep your energy up
Sunglasses/UV lip balm
Active clothing appropriate for the weather conditions (see our clothing considerations below)
Winter boots or warm insulated hiking shoes
There can be periods of high activity followed by periods of low activity in changing temperatures and conditions. We suggest bringing clothing of varying thicknesses that can be 'layered' to achieve comfort and versatility.
Clothing Considerations
These layers are what we typically recommend for our snowshoe outings. While we are moving the warmer mid layers and outer layers can be stored in your backpack until you might like to pull them out to wear during short breaks or at scenic lookouts.
#1 Base Layers (warmth and moisture control): Regulates body warmth and moves perspiration away from the body
Base layers (also known as long underwear or long johns) are available in light-weight, middle-weight, and heavy-weight. The purpose of the base layer is to wick moisture away from your body as you sweat. This helps to ensure that you stay dry and warm throughout the day.
We typically recommend light-weight thickness for snowshoeing in Northwest Ontario. Choose your thickness based on the weather conditions & forecasted temperatures.
A thin pair of base layer socks (also known as liner socks) are highly recommended as well to help with foot warmth and moisture control.
#2 Mid Layers (insulation): Retains heat, trapping it close to the body. They also help wick moisture away from the body.
These can take the form of sweaters, jackets, and pullovers. It is suggested that a fleece material (synthetic wool) be used for the layer above the base layer, and that it have a front zipper to help you regulate temperature.
For the bottom mid layer we recommend fleece pants or a heavy-weight base layer instead of light or mid-weight base layer.
For the feet, a mid-weight or heavy-weight hiking sock is recommended overtop of the liner socks. (no cotton socks!)
You can also bring a light weight puffy jacket as a mid layer in case you typically feel particularly cold.
#3 Outer Layer (weather protection): Protects from harsh weather conditions such as wind, snow, hail, sleet, and rain. This layer also helps to retain heat.
On top of your mid layers we suggest a waterproof shell which will actually keep you dry from the snow (snow quickly melts when it comes in contact with the body).
Commonly known as a hard shell or rain shell, these layers are worn above your mid layers to also trap warm air and insulate your body as well. For periods of inactivity or colder conditions, a big puffy jacket that will fit over all your layers is very nice to have in your backpack.
Gaitors overtop of your boots and pants can be used to help protect from snow going up your pants and/or into your footwear.
#4 Head and Hands (insulation & weather protection): These layers help to retain heat while also protecting the extremities from harsh weather conditions.
Head gear: A good cap or balaclava (and/or neck warmer) are a must for winter activities. We recommend a cap that is not too heavy and thick unless it is quite cold out.  Light to mid-weight works best.
Gloves: We recommend you wear a good pair of waterproof winter gloves, and that you have extras with you in case the first pair gets wet. Thin liner gloves, as well as a thick pair of mitts are also useful to have in your backpack.
Program Itinerary
This is a basic outline of the adventure; however we customize/modify our outings based on each individuals level of fitness and experience. The day begins with your drive time to the location.
-Arrival at the Destination! Meet and greet at the parking area
Waiver forms filled out & submitted
Distribute gear to each participant
Equipment explained, fitted to each person, and secured
The snowshoe adventure begins!
*Hike times vary depending on which area you have chosen & length of the outing.
Return to the parking area for the departure time
Drive Time Back to Thunder Bay
Waiver Form: 
Click Here to view/print the Waiver Form
If you do not have access to a printer, your guide will have blank copies available on the day of your outing.
Policies & Procedures
All adventures/courses are confirmed and booked based on guide's availability. Once a reservation is submitted check your e-mail for an automatic confirmation of payment (check your spam folder if you do not see it in your inbox) and we will get in touch with you within 48 hours to confirm all the details of your outing for you or your group.
After Submitting your Reservation: Each participant is required to fill out a Participant Information Sheet online. Please do this as soon as you've submitted your payment. This is to ensure we have all the information needed to provide you with the best possible experience and the properly fitted equipment.
Equipment Rental: The total cost of the trip includes the rental of snowshoes and trekking poles.
Transportation: Transportation to the destination is not included. You will need to arrange a way to and from the snowshoeing location.
Waiver Form: You will be required to sign our Waiver Form before commencing the program. Participants under the age of 18 will need their parent/guardian's permission to complete registration. Minors who show up for an adventure or course without a properly signed waiver by their parent or legal guardian will not be allowed to participate. At Outdoor Skills And Thrills we take great pride in ensuring our participants have a fun and safe experience. The proof is in the records – we are proud to say that we have never had an incident or injury occur during any of our guided outings! Nonetheless, we do want to make sure you are aware that hiking and snowshoeing can be a dangerous activity that can result in death, paralysis or serious injury.
Cancellation & Refund Policy: Once a reservation is submitted we hold a $50 non-refundable deposit per person. All program deposits are non-refundable, and the full amount becoming non-refundable 48 hours prior to the date of the reservation. Please notify us as soon as possible if you need to make any date changes to your reservation. All requests for cancellations or date changes must be submitted in writing to info@outdoorskillsandthrills.com.We reserve the right to cancel any program due to weather or route conditions, guide health, or for any other reason deemed necessary by the guide. In such cases, we are not responsible for expenses incurred by the client in connection with the trip such as airfare, car rental, equipment purchases, etc. If we cancel an outing prior to the trip date, every effort will be made to reschedule for another available date within the current season, or held as a credit to be used within 2 years. By its very nature, outdoor adventures are an uncertain endeavor, and many factors can influence the outcome of a trip. Accordingly, once a trip begins, we are unable to offer refunds for weather related cancellations, or for trips that end prematurely due to weather, route conditions or circumstances within, or affecting, your group.
Cancellation/Health & Interruption Insurance: It is important to make sure that your current plan covers you in the case of an illness, accident, cancellation, or interruption prior to or during your trip; get extra coverage if necessary. In the case of a trip cancellation or interruption, we cannot be held responsible for expenses incurred by the client in connection with the trip such as airfare, car rental, equipment purchases, etc.
Drugs and Alcohol: No alcohol or drug use is allowed on our programs. We have a zero tolerance policy and no climbing is ever permitted under the influence of alcohol or drugs.