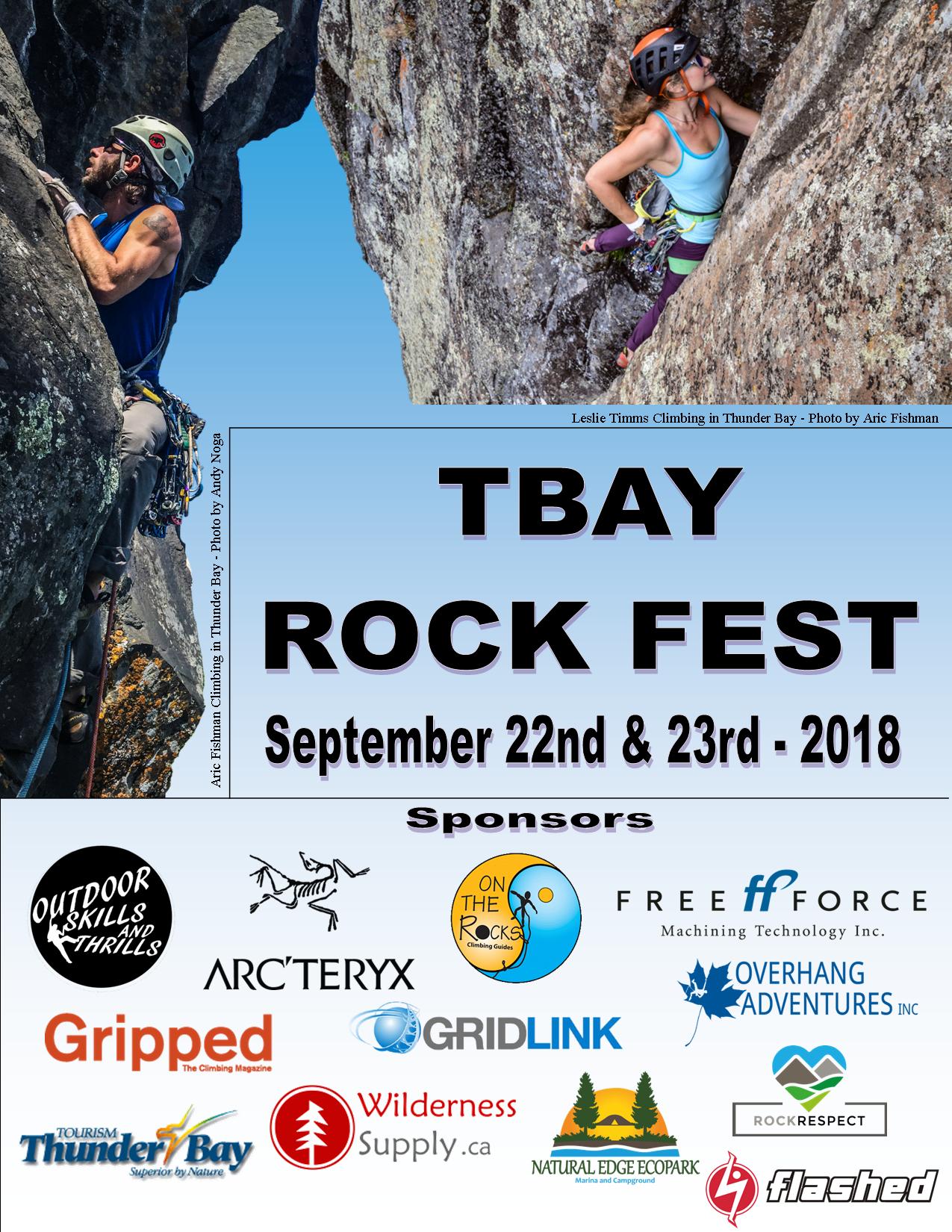 Northwestern Ontario is an absolutely spectacular place that's practically made for climbing. The unique geology of this region is a climber's dream come true offering breathtaking beauty of natural rugged landscapes when seen from the highest elevations. This area can most definitely stand up next to some of the most well-known vistas in Canada and is becoming known as a world-class climbing area. There is a seemingly unlimited amount of rock to climb, and although a ton has been developed already, most of it is untouched and waiting for a climber to get on.
September 22nd and 23rd come out to enjoy this first annual TBay Rock Fest!
Showcasing the Region | Outdoor Education | Community Building Events & Initiatives | Environmental Awareness | Connecting with the Land & First Nations Communities | Giving Back & Creating Opportunities | New Route Development | Campsite & Trail Maintenance | Epic Filming & Photography Ops
Check out this Gripped Magazine article about the Tbay Rock Fest
Where?
Clinics: 
Orient Bay – 35km north of Nipigon, Ontario
Considered the ground zero destination in eastern Canada with the highest concentration of top quality rock climbing & development potential close to Thunder Bay, Ontario. This area is a world-class climbing destination with many incredible single & multi-pitch sport, trad and mixed routes already established…and endless potential for more.
Claghorn – 38km west/north of Nipigon, Ontario
With an abundance of top quality single pitch sport, trad and mixed routes, Claghorn is an absolute rock playground for climbers to enjoy. Going through several phases of development since it was first climbed at in the early 80s, this crag has some must-do testpieces for people visiting the area, and holds the region's hardest climbs and projects, so far…
Base Camp: Natural Edge EcoPark – Nipigon, Ontario
A place for climbers to come together, the Natural Edge EcoPark in the township of Nipigon is our Basecamp for the event and reserved for the Tbay Rock Fest. Rock Festers can use promo code BASECAMP2018 to get 25% off waterfront Tentsile Stingray Campsites and Standard Campsites.
Schedule of Events
This is a basic outline of the schedule of events for the 2018 TBay Rock Fest
Saturday September 22nd & Sunday September 23rd
Climbing Clinics – Climber check-ins: 8am-9am
Clinic start times: 9:30a.m       –      Clinic end times: 3:30p.m
Clinic check-out/equipment returns: 4pm-5pm
Cost: $40/climber/clinic
Clinics
Trad Climbing & Crack Technique – Outdoor Skills And Thrills
Women's Technique – On the Rocks
Rock Rescue Clinic – Arc'teryx
Safe Development & New Routing Clinic – FreeForce
Conquer the Fear of Falling – Overhang Adventures
Rock Fest Roundup & After Party: September 22nd, 6:00p.m. – 10:00p.m.
Location: Natural Edge Eco Park
After a great day outdoors at the climbing clinics, everyone comes together to enjoy a fun evening at the 'Rock Fest Roundup' climbers social. All are welcome!
Presentations & Slideshows
Prize Giveaway (Raffle)
After Party: Saturday September 22nd, 10:00pm – 1:00am
Location: Natural Edge Eco Park
Local Band & Bonfire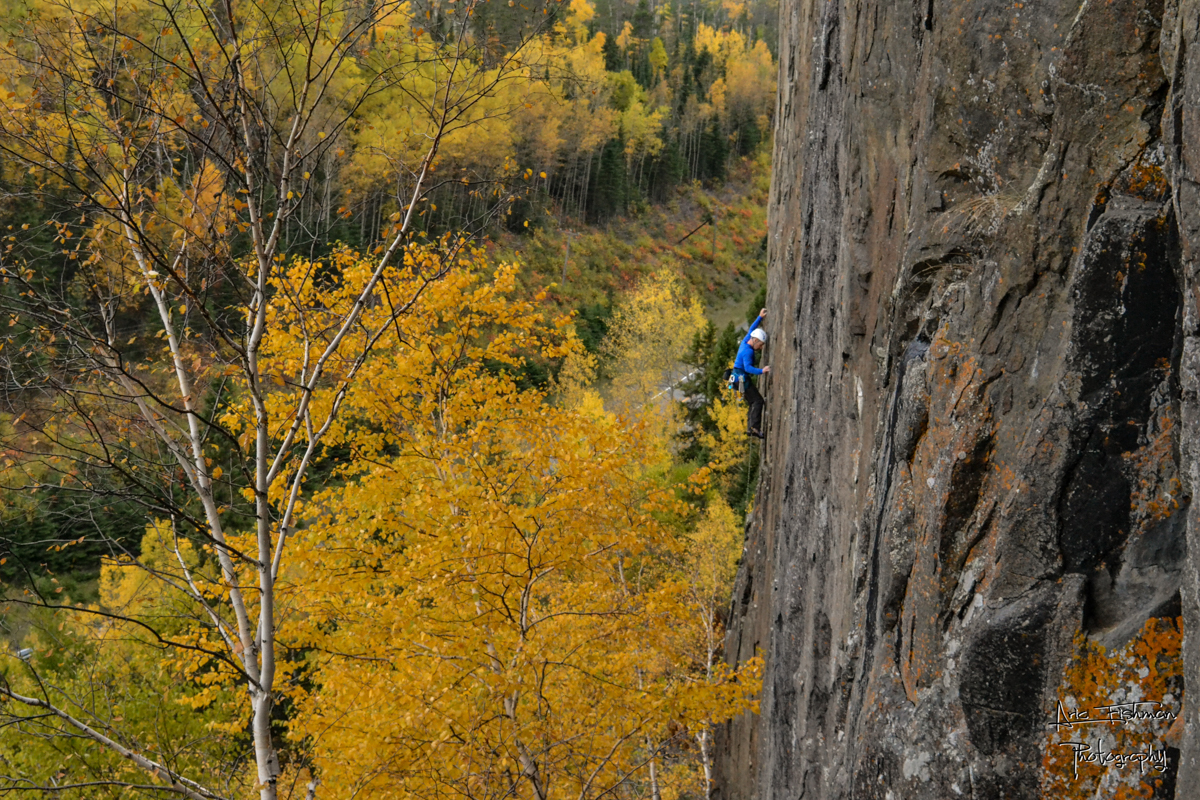 Steve Charlton climbing 'Courage Highway' at Orient Bay – Photo by Aric Fishman