Get to Know your OSAT Guides!

Aric Fishman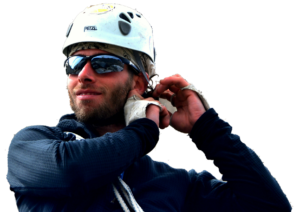 "I'm passionate about sharing the limitless and life changing benefits of climbing to anyone and everyone! It's all about teaching safe practices on rock and ice; developing the community through events, projects and stewardship initiatives; exposing to the world how incredible this area is (and) can be for climbing; tapping some of the potential new routing and making them accessible to others; and have a fun doing it all!" – Aric Fishman
Outdoor Skills And Thrills Founder, Director & Lead Climbing Guide
Founder of Outdoor Skills And Thrills Inc. – Guided adventures and courses around Northwestern Ontario.
Author of 'Thunder Bay Climbing: A Guide to Northwestern Ontario's Best Kept Secret, the latest comprehensive rock climbing guidebook for the region.
Director of the Nipigon Ice Fest committee, Canada's longest running premiere ice climbing festival.
Creator of Summit Gear, handcrafted custom made dog leashes, tug toys, collars, and other accessories made from upcycled climbing equipment.
Aric grew up in southern Ontario – at a young age trained and worked as a Wilderness survival instructor & Canoe tripping guide 1999-2004. Fell in love with climbing immediately upon being introduced to it in high-school. Worked as the manager at 4 different indoor climbing facilities between 2000-2013. Moved to Thunder Bay in 2007 for University – as a climber and adventurer he instantly fell in love with the region. Graduated in 2012 from Lakehead University, Majored (with honours) with a degree in Outdoor Recreation, Parks and Tourism, as well as a minor in Sociology. Since the early 2000's, Aric has spent a substantial amount of time climbing throughout the province of Ontario, as well as the province of Alberta & British Columbia, the state of Kentucky, West Virginia, New York, Idaho, Colorado, Nevada, Oregon, California, Utah, Tennessee, Wyoming, South Dakota, as well as in Mexico, Israel & Greece.
On average Aric is climbing & guiding over 250 days/year.
Fully Certified by the Professional Climbing Guides Institute, & SIRIUS Wilderness Medicine.
Spending over 20 years developing his skills as a climber, instructor, and professional guide, Aric has over 150 notable F.A. & F.F.A's (first ascent & first free ascents) under his belt and continues to develop new climbs every year. Through his efforts with Outdoor Skills And Thrills, he's had the opportunity to open the market for rock and ice climbing guiding in Thunder Bay; stir up the climbing industry in Northwest Ontario; & helped put the spotlight on Thunder Bay climbing internationally.
Avid photographer, film maker & author
Not only an accomplished climber and guide, Aric is also the author of 'Thunder Bay Climbing: A Guide to Northwestern Ontario's Best Kept Secret'. His book was voted as the #1 Book in The Walleye's 'Best of Thunder Bay – 2016' reader's survey, and rated 5 out of 5 stars by: Gripped Canada's Climbing Magazine, OntarioClimbing.com, The Walleye, and on MEC.ca.
Photos, articles, videos, listings, news reports, and interviews by: Gripped Climbing Magazine; Explore Magazine; CBC News; National Geographic Heart of the Continent; The Walleye Art's & Culture Magazine; The Chronicle Journal; Visit Thunder Bay; Ontario Travel; Northern Ontario Travel; Porter Airlines; Thunder Bay Experience Magazine; Mountain Equipment Co-Op; Lake Superior Circle Tour; Summer Fun Guide; TBay with Kids; The WeatherChannel; Ontario Trails; Tourism Excellence North; Television-Francais Ontario (TFO); DINE Magazine; Alpine Club of Canada; Northern Ontario Business; TBay News Watch; BillyYTZ; Bearskin Airlines; CBC Radio; Sail Superior; Belgium Video Productions; Wolfhead Coffee; Animikee Tours; The Wilderness Supply;
Proud to work together with local & regional businesses and organizations like: Thunder Bay Tourism, Roots to Harvest, Thunder Bay's Youth Move, Salvation Army, Thunder Bay Art Gallery, Manitouwadge Hospital, EasterSeals, Thunder Bay Ultimate Frisbee, George Jeffrey Children's Center, SHIFT, Thunder Bay's Young Professional's Network; Live from the Rock, Lakehead University, The Wilderness Supply, Fresh Air, Gear up for Outdoor, Chapters/Indigo, OntarioClimbing, Vertical Endeavors, Epica Pictures, Costal Productions, and many others.
Has had the honour to create, develop and successfully execute technical training programs for the Canadian Forces Department of National Defence on multiple occasions.
"If you're a novice ready to learn the fundamentals and eager to enjoy the life-changing experience of climbing, an intermediate looking to improve your climbing skills on world-class routes, or an expert trying to find the hidden secrets, a first ascent, or the best climbs in Northwestern Ontario, join me at Outdoor Skills and Thrills for an unforgettable experience in one of the most up-and-coming climbing destinations in Canada!" – Aric Fishman
FIND ME ON: