Get to Know your OSAT Guides!

Paul Desaulniers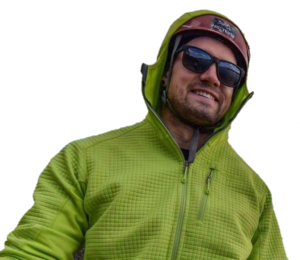 "I'm very excited to join the team at Outdoor Skills and Thrills and look forward to helping out at events and introducing others to the sport I love, all while developing my skill set and soaking up all the beautiful scenery Thunder Bay has to offer. Climb on!" – Paul Desaulniers
Outdoor Skills And Thrills Climbing Guide
Fully Certified by the Professional Climbing Guides Institute & Rescue7
Born and raised in Northwestern Ontario, Paul always had a passion for the outdoors. He enjoys spending as much time outside as possible, hunting, hiking, camping, canoeing, backpacking and most recently, climbing. He was introduced to climbing in 2013 by his girlfriend Carly and it has quickly grown from a curiosity into obsession. He started climbing indoors but quickly realized what an abundance of outdoor rock climbing Thunder Bay has to offer.
"The climbing community here in Thunder Bay is very welcoming and I've had nothing but positive experiences. I've been fortunate to have had the opportunity to climb with and learn from people like Aric and Duncan as well as other skilled local climbers. I've benefited tremendously from their knowledge and experience on the rocks and ice."-Paul Desaulniers
Paul regularly volunteers for the Nipigon Ice Fest, Canada's longest running premiere ice climbing festival.
He has helped successfully execute technical training programs for the Canadian Forces Department of National Defense on multiple occasions with Outdoor Skills And Thrills.
In the time that he has been climbing, Paul has proven that he is very excited to learn, progress, and develop his skills as a climber and professional guide. He is also very passionate about showing others the adventure of climbing and absolutely excels at teaching a safe standard.